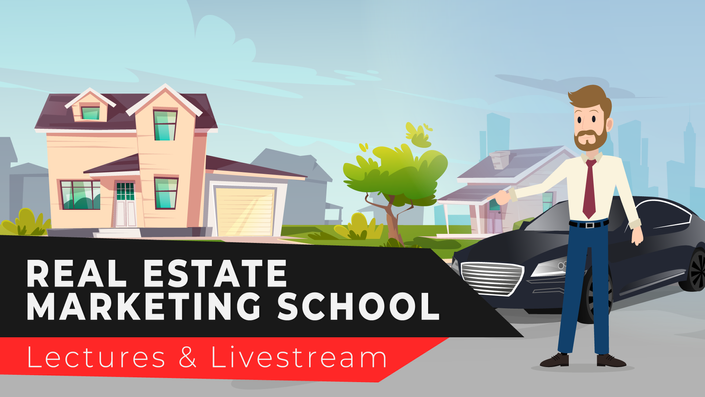 Real Estate Investing School
How to Retire Early from Real Estate Investing
You're learning real estate from an expert in this course.
Nick Foy is a 28 year old real estate investor who got started at age 19, acquiring rental properties and completing fix & flip deals. He has built a portfolio of properties that bring in passive income each month, allowing him to live freely and spend his time however he wishes. In his spare time he works as a real estate agent helping friends and family buy and sell their homes as well as investors who need a realtor to assist them in buying investment properties.
The Real Estate Investing School course is the complete resource library full of training videos and resources for learning how to invest in real estate. This course will help you buy your first investment property or learn new strategies for securing deals, finding money & financing, marketing strategies, and more!
You'll be able to take the lessons learned from this course and use them to build your property empire.
New lectures are added often so make sure to check back for new lessons over time after you complete the course initially.
This the most beginner friendly, A to Z, Step by Step course on real estate investing.

Welcome to Nick Foy's School of Real Estate Investing. Check out all the video lessons below in the MODULES section of this page.
So my friend, why are you here? What can I help you with?
Does any of this sound familiar?
"I want to invest in real estate but I don't know where to start"
"If only I had money, then I could invest in real estate"
"I love watching those house flipping TV shows, but I'm afraid I might screw it up"
"I don't know how to analyze a good investment deal from a bad investment deal"
"I can't find time to invest in real estate when I work a full-time job"
If so, you've come to the right place.
This is the ultimate real estate investing course for beginners to learn how to invest in real estate and help you launch your business from scratch.
Course Curriculum
The Basics of Real Estate
Available in days
days after you enroll
The Investor Mindset
Available in days
days after you enroll
Whether you are young, old, have poor credit, have good credit, have no money, have lots of money, it doesn't matter, you can become a successful real estate investor and build wealth that allows you the time freedom and financial freedom you deserve in life.

I got started at age 19 and by age 22 I had completed multiple real estate deals with 6 figure profits each and by age 26 had multiple rentals owned and flips under my belt, self financed but also seeking partner capital for future expansion. Investing in real estate helped me gain a net worth above $500,000 by age 25 and on track for $1 million before age 30. Real estate investing has given me freedom to travel in my spare time.
I want to help you obtain more time freedom by building wealth through real estate. Learn how to live off income real estate investments and transition away from a 9-5 job.
Inside this course you'll receive access to over 18 chapters (over 100 lessons) covering everything listed below:
✅ The Basics of Real Estate

✅ Ways to Make Money

✅ The Investor Mindset

✅ Choosing Your Strategy

✅ Types of Real Estate

✅ Preparation - Are you actually ready?

✅ Analyzing Your Real Estate Market

✅ Methods to Find Property Heavily Discounted in Price

✅ How to Analyze a Deal from A to Z

✅ Financing the Purchase: Cash vs Debt

✅ Legal Entities

✅ Contracts, Closing the Deal

✅ Property Management

✅ Selling Your Property: When Should You?

✅ Frequently Asked Questions

✅ Best of 2020: Reviews on Saving Accounts, Credit Cards, etc.

✅ Real Estate Careers: Earn While you Learn

✅ Downloadable Resource Library

At the end of every chapter/module you'll find a bonus vault that contains extra content, resources, tools, videos, and more that will assist you with the content regarding that chapter/module.
The goal in creating this course is to give you everything you need to know to become a successful real estate investor plus more. I've literally pulled everything I could think of from my knowledge bank and research of real estate investing and compiled it into an easy to follow course making the learning process as easy as possible on you.
I've also included links, videos, and other tools inside that you'll be able to access and use to your advantage in your business. I recommend printing out the worksheets and placing them into a binder for future use. These will come in handy, especially my checklists to ensure you don't forget different things in each phase of your business!
We are continually adding new content to this course over time. You get lifetime access to the course and all future content we add for a one time payment of $125.
Limited Time Offer: Grab this course today for 50% OFF it's usual price of $249!
---------
REFUND POLICY: Refunds given only when requested by email, by a student who has purchased the course less than 7 days prior, and has viewed less than 30% of the course. Whether or not you click on the COMPLETE & CONTINUE button, makes no difference. The rule applies once you access 30% of the modules in the course, whether or not you view the videos. Absolutely NO exceptions!

Disclaimer: The content is for educational and entertainment purposes only. This course is not financial advice and I do not tell you to make any investment decisions so please consult your own licensed financial advisor.